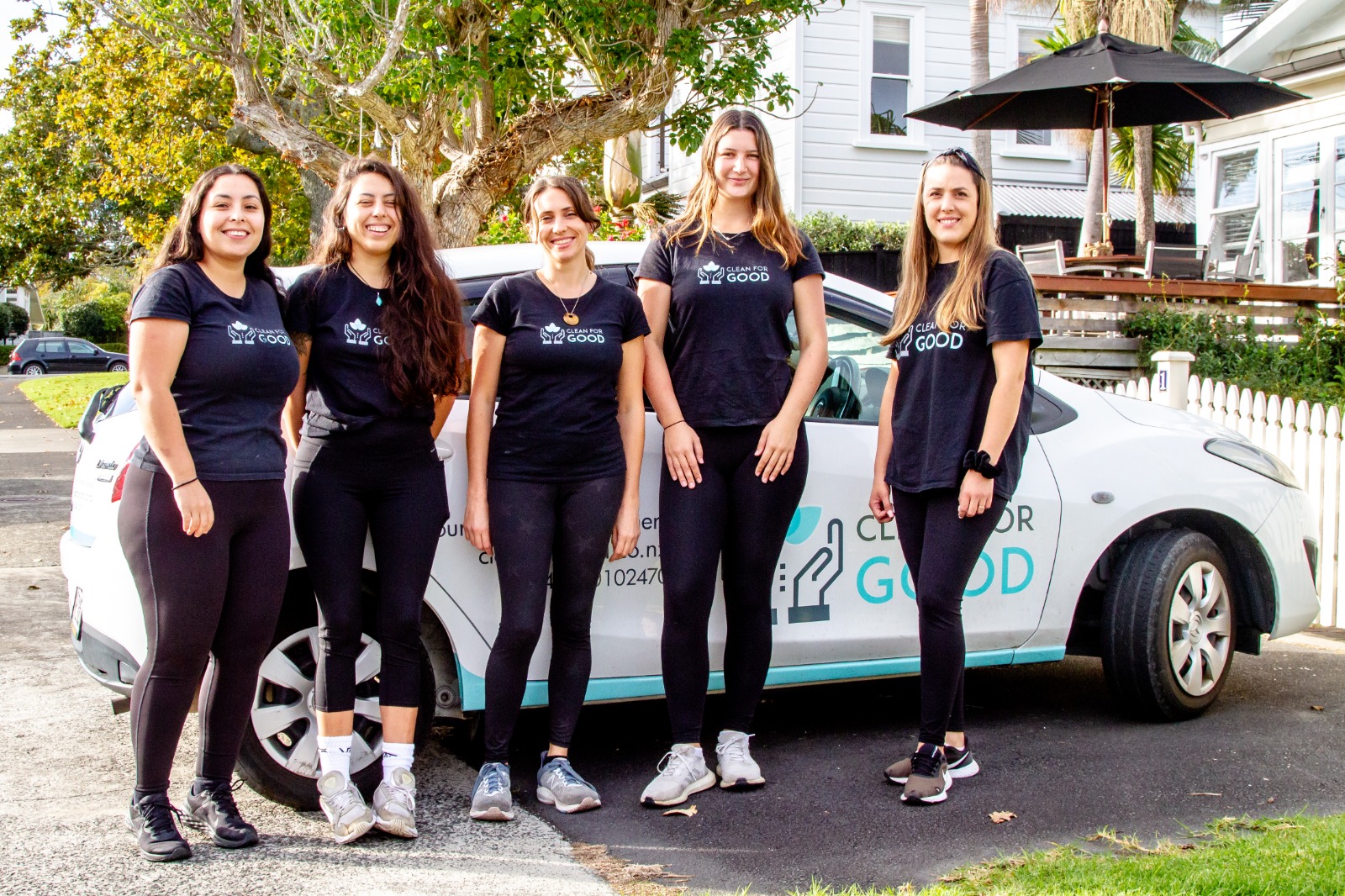 Clean for Good Senior team
Two years ago, Devonport local Stephanie Ray was tossing up between starting a Ph.D. in Maths or creating her own business. 
The idea of making an impact in her community won out, and so she launched Clean For Good – a cleaning company with a difference.
Clean for Good isn't just about mopping floors and cleaning windows. Stephanie wanted an eco-friendly, affordable cleaning service – a green alternative to chemical cleaning.
As a mum of three, she felt she had a duty to protect the environment.
"It is my legacy. I need to take care of the planet where my kids are going to live. I want them to be able to swim at a clean beach, to eat food that doesn't make them get sick."
Launching a business in mid-2020 was not without its challenges. But while others struggled to survive Auckland's recurring lockdowns, Clean For Good has gone from strength to strength. Now with a staff of eight and a client base of over 90, the company is about to expand its services from Devonport to Takapuna.
A self-professed mathematician, Stephanie says her keen business sense helped them weather the COVID storm.
"My business is successful because it works on super high standards," she says. "I believe in providing an A+ service. We invest a lot of money in training our staff and in researching the products we use. We may look like a big company now, but we are still locals!"
Making homes healthier and safer is a big part of the Clean For Good ethos. The company focuses on using "green" cleaning products while minimising the use of chemicals and plastics. By buying in bulk from trusted eco companies and formulating some of their own products, Clean For Good is able to stay competitive.
"Clients want to receive a great cleaning for the best possible rate. And we are known for exceptional customer experiences!" Stephanie says.
Social consciousness is also important, and Stephanie is committed to looking after her staff as much as her clients. She ensures that her team enjoys fair pay and supportive working conditions.
Clean For Good gives back to the community by sponsoring local initiatives such as free language classes at the Devonport Library, and kids' football teams. Last year, during Auckland's four-month lockdown, Stephanie decided the town needed a little fun – so she came up with an idea for a Halloween House Decoration Contest. She reached out to locals via Facebook, offering prizes for the three "scariest" houses. The contest was so successful she plans to run it again this year, but "bigger and cooler". Her plan is to have families choosing a team or a project that Clean For Good can sponsor, rather than competing for a grand prize.