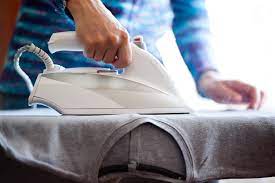 Ironing and Dry Cleaning drop off and pick up.
Get your time back with our Ironing and Dry Cleaning drop-off/pick-up.
Ironing for some people is one of those tedious tasks, and they never have time to do it. However, perfectly ironed clothes make all the difference in how you look and feel, whether at work, out shopping, or on a night out, so calling in the professionals can really make all the difference to you and your family.
Ironing Services
We iron anything from shirts, bed sheets, towels, trousers, skirts, t-shirts, table clothes, underwear to socks. We will leave your clothes hanging in your closet. You can add this service as an extra to your regular service.
Dry Cleaning drops off/pick up.
Book online and place your items in the free bag that you will receive with the delivery of your first order. Then, after finishing your house cleaning, your cleaner will take it to a local dry cleaner.
Your items will be cleaned by a local Dry Cleaner (we support local businesses!). We won't outsource your dry Cleaning to anyone else.
As we already have access to your house, your dry Cleaning will be delivered back to your home on your selected date and timeframe.